Ali*, who is seeking asylum in Sydney, has been sleeping on an armchair at his friend's house. His friends lost income amidst pandemic job losses, and now no one in the household can afford rent.
"He's been doing everything he can and he just can't get any income," says Asylum Seekers Centre caseworker Meg McLellan.
"When I called him the other day, he was at a forklift course. I asked him 'Are you OK?' He said 'I'm not, but I'm trying to be.'"
Excluded from Centrelink payments such as JobSeeker and JobKeeper, thousands of people seeking asylum in New South Wales have plunged into crisis – and demand at the Asylum Seekers Centre is higher than ever.
"Since the pandemic, the need for assistance has tripled," says casework manager Melina Matthia.
"Mental health, access to food and housing are the biggest issues. We've had more clients who were completely desperate because they couldn't see what's next."
The team is frequently providing support to people who can't afford to pay rent. Many people seeking asylum are in informal housing arrangements, meaning they aren't protected by the state's eviction moratorium.
"The other day I spoke to a family, with a baby, in crisis because their landlord was threatening to call the police if they didn't pay the rent that week," says Meg.
"They had no rental agreement, so they were extremely vulnerable."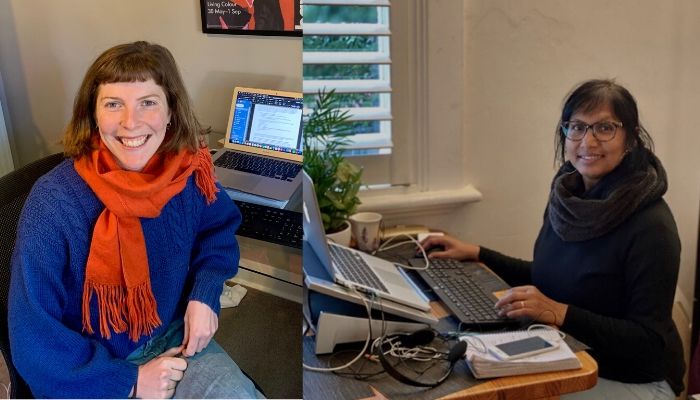 Caseworkers Meg McLellan and Felicia Paul have been working from home since March (Image Credit: The Asylum Seekers Centre.)
The number of people receiving financial assistance from the Asylum Seekers Centre has increased significantly since the COVID-19 outbreak. The small allowance can provide opportunity when negotiating with landlords.
"Our basic rate is just under the average price for a single room in Western Sydney," says caseworker Sam Candido.
"One man I just got off the phone to is renting a renovated garage for $120. He lost his job six week ago, and is six weeks in arrears, but at least with financial assistance he can stay where he is."
In just the last two weeks, caseworker Felicia Paul has had five new families who need the support of the families team.
"One family I support was asked by the Department of Immigration to do health checks, an indication they were close to being recognised as refugees.
"These checks cost $2400 upfront.
"The father had lost his casual job and he told me, 'I just can't pay this'."
Caseworker Grace has spoken to many people who have lost work in hotels, hospitality and cleaning, and are returning to the centre after years of independence.
"A lot of the time when I speak to people, I can sense they feel desperate. Apart from desperation, there's also frustration that they have been paying tax but aren't able to access a safety net," she says.
Frustratingly, many people have had to explain to their employers that their visa status makes them ineligible for JobKeeper.
"Lots of people have had to sever the ties with their employer, which is a real loss," says Grace.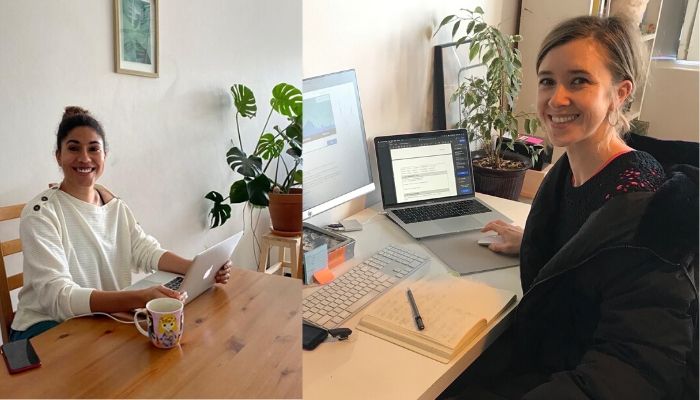 Each day is different for the casework team. They call people who are new to the centre, check on people who are doing it tough and make appointments for people with a lawyer or a nurse.
"Last week a woman experiencing homelessness arrived at the centre, so I spent some time assessing her situation and making plans to ensure her basic needs were met. Other days I will be speaking to six people," says Grace.
Working from home has brought challenges for the team, which is made up of five paid staff, volunteers and students. Each has their own ways of coping with the stressful nature of their work. They have a group chat where they talk about anything but work – new recipes, weekend plans, or global COVID-19 statistics.
"I keep strict routines for self-care – spend time outside, log off when I finish work," says Grace.
Talking to people seeking asylum over the phone presents its own hurdles – physical cues can go unnoticed, language barriers exacerbated.
Despite the challenges, the team continues providing support that may not otherwise reach vulnerable families.
"How do you manage a crisis remotely? We've learned a lot in the pandemic, but what we've learned is we're able to do it," says Melina.
"We're able to keep people safe while working remotely. That's a good thing."
Story Source: Asylum Seekers Centre